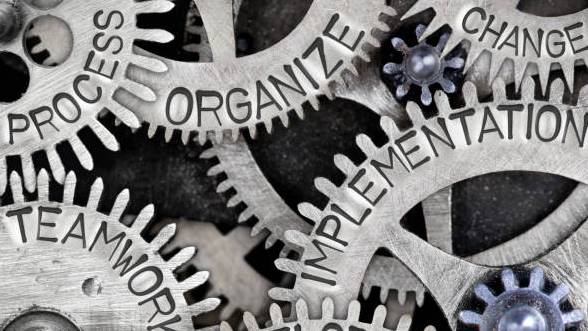 KMCG's Change Management methodology is based on lessons learned from executing new initiatives across all departments within venture backed startups and Fortune 50 companies. The following process was developed to help organizations identify, prioritize and measure initiatives that required changes in resources, processes or overall go to market strategies.
Organizations don't change, individuals do. No matter how large the project, the success of that project ultimately lies with each employee and their ability to incorporate and effectively manage change. Effective change management requires an appreciation of how individuals perceive the reasons for, and the significance of, the proposed changes.
While change happens one individual at a time, having a quantifiable process that can help facilitate change across departments ensure maximum benefit while minimizing disruption. Without a structured approach, change management will be limited to only communication and training.
The following steps represent a guideline for enabling individuals, teams and companies to define and quantify necessary change.
Identify
Determine Objectives that will impact the business
Prioritize
Consolidate and Prioritize each Objective (3-5 total)
Justify
Challenge each Priority to validate and confirm the value
Measure
Define Metrics of success for each Priority Objective
When an organization undertakes Change Management as an initiative, clarity and accountability is critical. By engaging individuals affected by the proposed change(s) in the Priority Objective exercise ensures a comprehensive review of the issues resulting in a validated list of objectives with appropriate priorities and realistic metrics for objective attainment.
THE 3-PHASE PROCESS: A STRUCTURE FOR ORGANIZATIONAL CHANGE
---
KMCG's organizational change management process was built in three phases that a project or change manager can work through for the changes and initiatives they are supporting. The methodology includes research-based assessments and templates to support each phase, as well as guidance for effectively completing each step.
The first phase provides the situational awareness that is critical for creating effective change management plans.
The first phase in KMCG's methodology helps teams to prepare for designing change management plans. It answers these questions:
"Scope of change management required for this project?"
"Who is impacted by this initiative and how are they impacted?"
"Who are the principals or sponsors required to make this initiative successful?"
The second phase focuses on creating plans that will integrate with the project plan. 
The second phase focuses on creating plans that will integrate with the project plan. These change management plans illustrate the steps needed to support the individual resources being impacted by the project. Based on KMCG's research, there are five plans that help individuals moving through the Change Management Model.
Communications are a critical part of the change process. This plan articulates key messages that need to go to impacted individuals. It also identifies who will send the messages and when, ensuring employees are getting messages at the right time about the change from the appropriate, credible sponosors/leaders.
Outlines the actions required from the project's primary sponsor and the coalition of sponsors across the business to help executives be a visible sponsor of the proposed change(s). The guide provides details on when and where leaders need to be present, what communications they should send, and which peers across the coalition they need to align with to support the change.
Training is a required part of most changes, and is critical to help individuals and teams build the knowledge base and skill set required adopt the proposed change(s). The training plan identifies who will need what training and when. It is important that the training plan be sequenced in a way that allows for awareness prior to training.
The coaching plan outlines how to engage with and prepare managers to lead the change within their own teams. Managers play a significant role in aiding the change management efforts however, they need to be engaged as employees first and provided the necessary time to work through their own change process for their areas of responsibility. This experience will help managers to lead the same change process with their own teams.
The third phase helps create specific action plans.
The third phase helps create specific action plans for ensuring that the change is sustained. In this phase, project and change teams develop metrics and mechanisms to measure how well the change is being adopted, identify and correct gaps and celebrate success.
CONNECTING INDIVIDUAL AND ORGANIZATIONAL CHANGE MANAGEMENT
---
The link between individual change management and organizational change management is what sets KMCG's approach apart from other change management methodologies. The KMCG methodology integrates individual change management and organizational change management to ensure successful results.
CONSULTING SERVICE
We are providing wide range of Consulting Services & World wide happy Clients
CONNECTING INDIVIDUAL AND ORGANIZATIONAL CHANGE MANAGEMENT
---